Library Event: Living Library Session I Held Successfully
The first session of Living Library was successfully held online by XJTLU Library on the evening of 17 November. The theme of this session was Dreams Become Reality – Life in Super Elite Universities. In this event, we were fortunate to have three alumni as Living Books (guest speakers). They shared their thoughts on topics including dreams, hobbies and persistence. A total of 160 people participated in the webinar.
11月17日晚,真人图书馆第一场活动在网上成功举办。本场主题为"梦想照进现实——超级名校学霸的苦与乐"。活动中,我们有幸邀请到三位校友作为真人书(演讲嘉宾),分享他们关于梦想、爱好与坚持等话题的思考。共有160人参与了本次在线活动。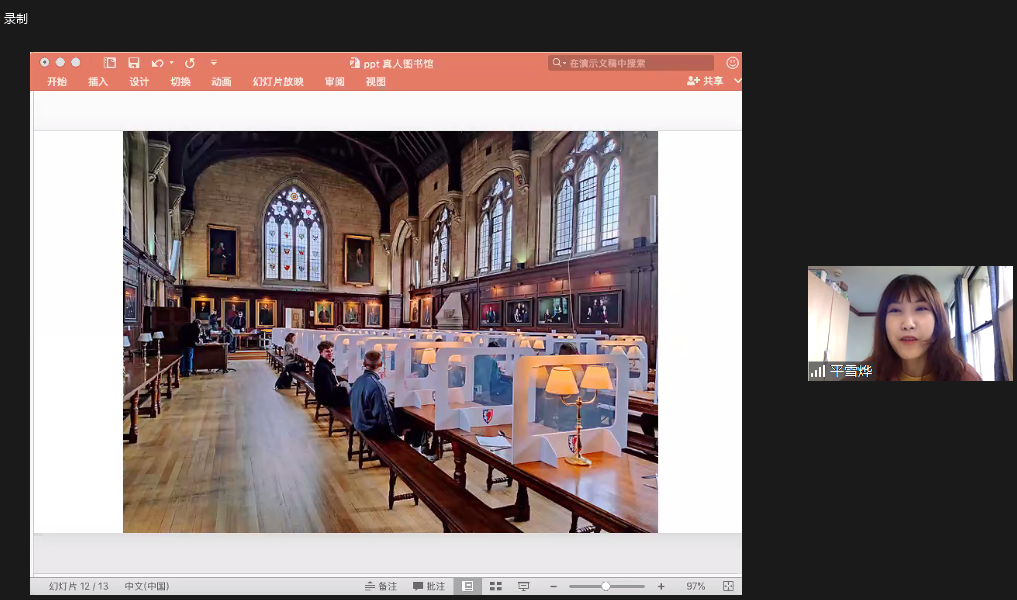 In the first part of the webinar, the Living Books gave a speech to the audience. Yakun Tang, PhD student at University of Cambridge, shared her story of how she chosen her major and how she persisted in working on it. Xueye Ping, currently studying at Oxford University, talked about her daily life at Oxford and her plans for her academic career, and encouraged XJTLU students to find what they really love to do and make plans for that. Hanyu Jiang, student at ETHZ, gave her suggestions to the audience on what they should do during four years at XJTLU, including setting goals, overcoming difficulties and developing hobbies.
在活动第一个环节,真人书们各自做了主题演讲。在剑桥攻读博士学位的唐亚堃分享了她如何进行专业的选择以及如何在这个领域坚持不懈的故事;目前在牛津就读的平雪烨讲述了她在牛津的日常生活以及她对自己的学术生涯的规划,并鼓励西浦学生找到心中最爱的方向并为之提前做好计划;苏黎世联邦理工学院的学生蒋雨涵则针对西浦四年该做些什么这个问题给观众们提出了许多建议,包括了设定目标、克服困难和培养爱好等等。
In the second part, the audience had a chance to ask questions to the Living Books. Their questions covered a wide range of topics such as what preparations should be done for top university applications, differences between universities in the UK and the US, and how to strike a balance between study and entertainment. The Living Books shared their opinions on these questions and gave advices to the audience according to their experience.
在第二环节,观众们可向真人书们发问。他们提出的问题涵盖了许多方面,如申请顶尖名校要做哪些准备、英国与美国高校有何区别、如何取得学习和娱乐之间的平衡等等。针对这些问题,真人书们分享了她们的观点,并根据自己的经验给出了相关的建议。
"This is the second time that I take part in Living Library Webinar. It is of great help to hear the stories of the outstanding alumni. Thanks to Living Library, I has become more and more confident in the future study and career planning." Said Cai, Year 2 student in department of Applied Mathematics.
"这是我第二次参加真人图书馆的线上活动。听这些优秀的学长姐讲述他们的故事对我的帮助非常大。多亏真人图书馆,我对于将来的学习和职业的规划越来越自信了。"应用数学专业的大二学生蔡说道。
Library Event: Living Library Session II Is a Success
On 1 December 2020, Living Library Session II was held successfully at 123W in the Central Building.
2020年12月1日,在中心楼123W,真人图书馆第二场活动成功举办。
In the second session, we invited five LIVING BOOKS, namely environmentalist Yanning Huang, experimenter Haoyuan Yang, slash youth Qizi Ju, entrepreneur Zhili Zhao, and Xiang Li, who devoted himself to scientific research at an early age. They shared their life experiences and ideals with us face to face, encouraging us to learn, to treat life calmly and peacefully with a better attitude.
本场活动邀请了五位"真人书",分别是环保主义者黄炎宁老师、尝试哥杨昊芫、斜杠青年鞠杞梓、创业达人赵知礼、最后还有早早投身科研领域的李想。他们都不吝赐教,与大家面对面分享他们的生活经历和理想感悟,让同学们学会用更好的心态,从容平和地对待生活。
"From excrement to trash to toxic waste, we live with the illusion that refuse can be made to disappear or, with the push of a button, be magically flushed away." Yanning Huang showed us a photo he took at the entrance of a teaching building filled with express delivery. It could be seen that we were producing massive quantities of garbage while enjoying a convenient life. What we didn't realize was the damage the trash would cause to the environment. Huang called on everyone to choose to have slight inconveniences in our life: reduce online shopping and go to physical stores to buy things, repeatedly use plastic bags and plastic lunch boxes, bring glass lunch boxes to pack food, and choose dine-in or cook by yourself.
"我们活在一种幻象里,感觉我们产生的所有废物——从排泄物、垃圾到有害废弃物——都可以凭空消失,就像我们冲马桶那样轻易。"黄炎宁老师分享了他拍的一张教学楼门口堆满快递的照片,可见我们在享受便利生活同时生产了无数的垃圾,而我们没有意识到的是这些垃圾会对环境造成怎样的破坏。黄老师号召大家过麻烦一点的生活:减少网购去实体店买东西,反复利用塑料袋和塑料饭盒,带玻璃饭盒打包食物,选择堂食或自己做饭。
"Life is full of ups and downs." Haoyuan Yang said. His story was about social anxiety, losing oneself, and character set. As a media worker, he interviewed many celebrities. These past experiences were what he used to be proud of. However, it was these experiences that once plunged him into social anxiety. In the current era, we check Moments and post on Moments every day or even every hour. Once we indulge in virtual applause, we tend to lose ourselves. Therefore, through reflection, Yang told everyone that to find inner tranquility, we needed to try more and even make some mistakes.
杨昊芫说:"上上下下才是人生。" 他的故事是关于社交焦虑、关于迷失自己、关于人设。作为媒体工作者,他采访过很多明星,过往这些经历都是他曾经据以为豪的谈资,然而也就是这些经历让他一度陷入了社交焦虑。在当下这个时代,我们每一天甚至每个小时都会刷朋友圈、发朋友圈,一旦沉迷于虚拟的掌声,反而容易迷失自我。所以杨昊芫通过自己的反思告诉大家,真正的安稳是向内所求的,多尝试、多试错,才是真正的踏实。
At the age of eighteen or nineteen, are you a person who follows your heart? Or will your decisions be influenced by people around you? Year 4 student Zhili Zhao encouraged us by her own experience to try hard to follow our hearts and do what we genuinely love. She decided to take a gap year to study beauty when she was a junior. Later she founded a beauty studio and gradually became an elite in the industry.
在十八九岁的年纪,你是一个遵循自己内心的人吗?或者还是做重大的决定会被周围人的意见所左右?大四的赵知礼,用她的自身经历告诉同学们,努力地去做前者吧!去做自己真正热爱的事情,就像她在大三的时候毅然选择了间隔年去学习美容,并在之后创立了自己的美容工作室,通过点滴积累成为了行业中的精英。
The guest speakers' insights and experiences have greatly helped the audience, guiding them to reflect on their current life and look forward to the future. Hopefully, everyone will complete their journey of university life with a more explicit purpose and more determination.
听完五位嘉宾有趣生动的经验分享,同学们收获颇丰,既有反思,也有憧憬,相信大家会带着"真人书"的经历感悟,更加笃定有目标地走完大学的旅程。