Skip to Main Content
It looks like you're using Internet Explorer 11 or older. This website works best with modern browsers such as the latest versions of Chrome, Firefox, Safari, and Edge. If you continue with this browser, you may see unexpected results.
Introduction
Space Guide
LEARNING COMMONS 学习共享空间
The Learning Commons are located on the 3rd, 4th, 5th, 7th, 8th, 9th and 10th floor of the library. Sofas and study tables are located in the Learning Commons. Tens of thousands of books are shelved in the Learning Commons to support learning, teaching and research. A number of popular magazines and newspapers are also provided for leisurely reading and relaxation.
学习共享空间分别位于图书馆的3 楼、4 楼、5 楼、7 楼、8 楼、9 楼以及10 楼。学习共享空间配有多样的学习桌椅和沙发。学习共享空间内有几十万册的专业书籍为用户的学习、教学和研究提供支持,同时空间内有上百种的杂志和报纸供用户阅读。
INFORMATION COMMONS 信息共享空间
Library Information Commons are located on the 4th and 5th floor of XJTLU Library. There are 174 Lenovo computers and 53 Apple computers. Staff members may reserve the information commons for teaching activities via XJTLU Room Booking System (http://mrbs.xjtlu.edu.cn/day.php). The reservation notification will be found at the entrance notice board. The Information Commons (Room 416,463,516,529,563) are available for library users, first-come-first-serve when no teaching activities are scheduled.
信息共享空间位于图书馆的4楼和5楼,总共有174台联想电脑和53台苹果电脑供用户使用。教职员工可以通过本校的房间预约系统(http://mrbs.xjtlu.edu.cn/day.php)预约图书馆的信息共享空间 (416,463,516,529,563) 以用于教学活动。信息共享空间被预约后,用户在信息共享空间门口的通知栏可看到预约通知单。图书馆信息共享空间在未被预约的情况下对所有用户开放。
| | | | | | |
| --- | --- | --- | --- | --- | --- |
| Room Number | R416 | R463 | R516 | R529 | R563 |
| Computer Brand | Apple | Lenovel | Lenovel | Lenovel | Lenovel |
| Capacity | 53 | 24 | 56 | 34 | 34 |
The list of software available in different computer labs
GROUP STUDY ROOM 团队研讨室
Group Study Rooms(Room 314, 316, 318, 429, 445, 545, 547, 714 and 814)aim to provide students and staff space for group discussion within the library upon booking. Each person can only book a room once a day. Booking is limited to a maximum of 3 hours for students and 6 hours for staff. Room booking can be done via Library Room Booking System (http://bookings.lib.xjtlu.edu.cn) and can be booked up to 7 days in advance.
图书馆团队研讨室(314,316,318,429,445,545,547,714,814)旨在为师生提供一个可进行预约的团队研讨空间。每位用户一天只能预约一间研讨室。学生每次预约最长使用时间为3小时,教职员工每次预约最长使用时间为6小时。每位用户可以提前7天通过图书馆团队研讨室预约系统(https://roombookings.xjtlu.edu.cn/ClientWeb/xcus/xjlwp/Default.aspx)进行在线预约。
SELF-PRINTING, COPYING AND SCANNING AREA 自助打印、复印、扫描区
Printers, Photocopiers and Scanners are available on the 1st, 3rd, 4th 5th and 9th floor of the library for both XJTLU students and staff. Instructions on the multifunctional printers are posted on the walls to help users get their printing/photocopying/scanning jobs done efficiently. For any printer problems, please contact the IT Service Desk on the 4th floor in the library.
自助打印、复印、扫描区位于图书馆1楼、3楼、4楼,5楼和9楼,学生和教职员工均可使用。该区域内贴有多功能打印机的使用说明,以帮助师生们顺利高效地完成打印、复印、扫描任务。任何关于打印机的问题可向图书馆4楼IT 服务台咨询。
How do I print/scan/copy?
What can I do if I got "credit too low" error when self-printing?
Catalogue Searching Area 检索区
The Catalogue Searching Areas are located on the 1st and 3rd floors of the library. Students and staff can use these computers to search library collections, use DISCOVER and print documents.
检索区位于图书馆的1楼和3楼。师生可以使用这里的电脑查阅馆藏资源,使用图书馆DISCOVER发现服务,以及打印文件资料。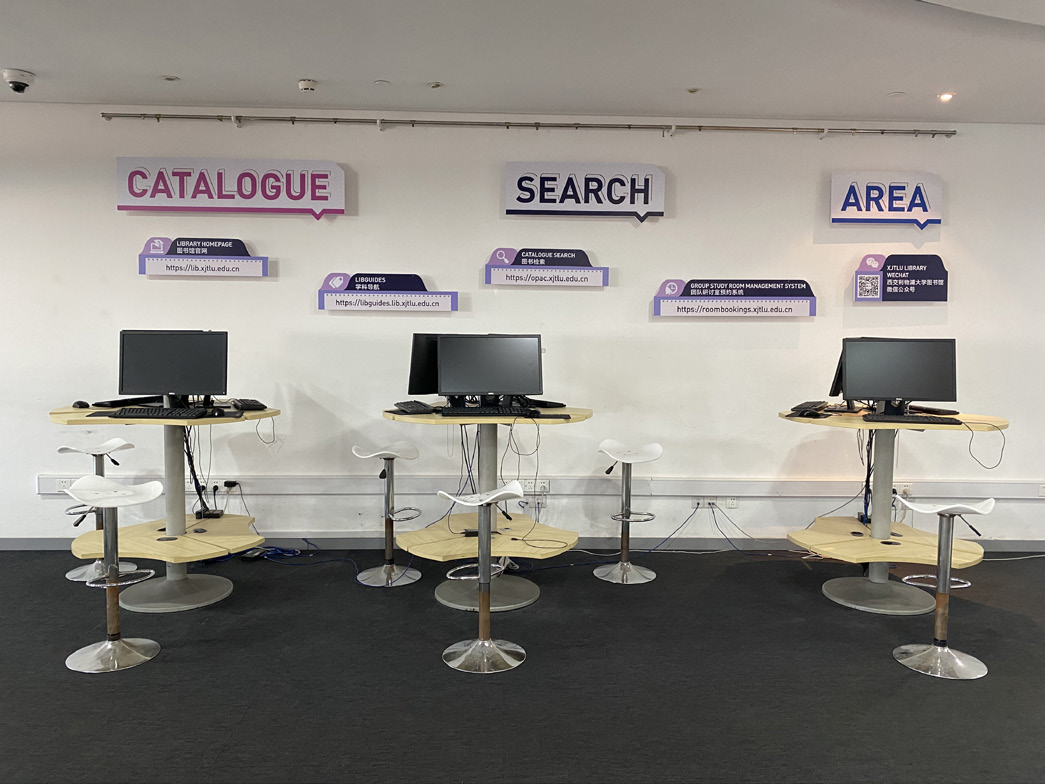 Library Mobile Phone Zones are embedded in the Learning Commons. Comfortable sofas and chairs are located in these areas. The Mobile Phone Zone room features make it easy for students to make and receive calls without disturbing other users in the Learning Commons.
图书馆学习共享空间内均设有电话区,里面配备有舒适的沙发和椅子。电话区的设置方便了用户在馆内拨打和接听电话,同时又避免对学习共享空间内的其他用户造成干扰。
TRAINING ROOM 培训室
Library Training Room 303 has 1 computer, 1 projector and 1 moveable whiteboard, with a capacity of 48 people. Reservation can be made via XJTLU Room Booking system by staff for teaching activities (http://mrbs.xjtlu.edu.cn/day.php).
培训室位于图书馆3 楼303 房间,配备有1台电脑、1台投影仪和1个可移动白板,可同时容纳48 人。教职员工可以通过学校房间预约系统(http://mrbs.xjtlu.edu.cn/day.php)进行预约使用。
FOOD AND DRINK ALLOWED AREA, DISCUSSION ALLOWED AREA 饮食区和开放讨论区
The Food and Drink Allowed Area, Discussion Allowed Area is located on the 6th floor with relaxing furniture. This is the only area where food is allowed in the Library. It is also a popular area for students to have their team work and meeting for discussion.
图书馆饮食区和开放讨论区位于馆内6楼,配备有舒适的家具设施。这里非常受同学们的欢迎,因为在这里他们可以完成团队讨论或团队作业,并且这里是馆内唯一可以享用食物的空间。
EXHIBITION AREA 展览区
Exhibition Area is available in the library for the purpose of exhibition, including the entrance hall on the 1st floor, exhibition areas on the 3rd and 6th floor. There will be book fairs, art shows to be held in these areas, please pay attention to the library notice if you would like to join us in these events.
图书馆的展示空间包括1楼主出入口大厅、3楼和6楼环形楼梯区域,主要用于举办书展、文化艺术作品展等展览性活动。如果您愿意加入我们的这些活动,请关注图书馆公告。
INTERACTIVE COMMONS 互动空间
Interactive commons in room 153 is furnished with flexible tables and seats for cooperative group work.
互动空间位于图书馆1楼153房间,是图书馆内开放讨论与团队协作区域。